During the 1999 Roads to Resources Expedition we traveled over terrain unique to Canada. The Eagle Plains, a vast plateau along the highway is one of the few places untouched by glaciation. Its landscape has been shaped by erosion rather than scoured by the firm grip of a glacier. Geologically an important area, significant oil and gas explorations have taken place in the region. No settlements existed over this section before the highway because of the prohibitive costs of building on top of permafrost. However, the gas station and motel at Eagle Plains has been constructed since the opening of the highway. Built on a layer of bedrock, Eagle Plains boasts a population of around 8 people. It is the only settlement between Dawson City and Fort McPherson.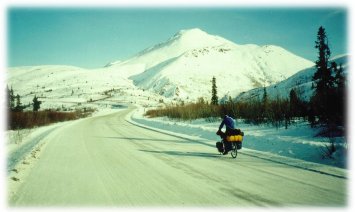 Our expedition crossed the continental divide three times; our final crossing was over the unglaciated Richardson Range. Beyond that we dropped into the MacKenzie River Delta, a flat fluvial extension of the northern plains. The delta contains stunted trees, bent over from the unstable permafrost below.

In winter there are two ice bridges along the Dempster- the first crosses the Peel River and the second spans Canada's longest river, the mighty MacKenzie.

Although the Dempster ends in the town of Inuvik, 737 kilometers after it begins; during the winter, an opportunity exists to travel further north on an ice road that leads to the Arctic Ocean and the community of Tuktoyaktuk 200 kilometers to the north. The road travels over top of the MacKenzie River Delta and along the Tuktoyaktuk peninsula.